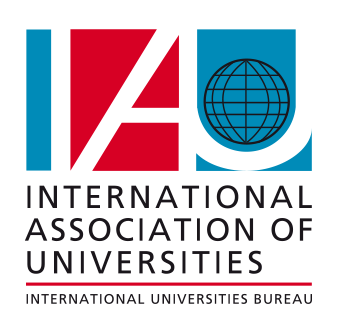 International Association of Universities
Building a Worldwide Higher Education Community
IAU releases on periodical basis a set of reference publications as well as punctual publications addressing a specific topic of interest to IAU and the world higher education community.
REFERENCE PUBLICATIONS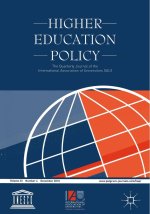 Higher Education Policy journal
Higher Education Policy (HEP) , published quarterly, is an international peer-reviewed journal for advancing scholarly understanding of the policy process applied to higher education through the publication of original analyses, both theoretical and practice-based, the focus of which may range from case studies of developments in individual institutions to policy making at systems and at national level. The editorial board encompasses international experts in higher education.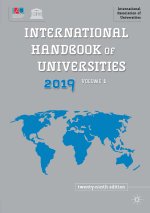 International Handbook of Universities
The International Handbook of Universities was first published in 1959 in response to the growing demand for authoritative information about higher education institutions. It has grown considerably over the years in both the quantity and quality of entries, and includes higher education institutions that offer at least post-graduate degrees and/or four-year professional diplomas. It is published every year. The next edition is due to be released in eformat and in print on demand in 2018.
Global survey on Internationalization
In April 2014 the IAU published the report of the IAU 4th Global Survey on Internationalization of Higher Education
Each such reports provides a unique analysis of global and regional level data on trends and developments in the field of international higher education and related policymaking. The IAU Global Survey reports have become an invaluable resource for anyone working on or interested in internationalization of higher education.
IAU HORIZONS
Published twice a year, the magazine features IAU Activities, upcoming events and specific projects the IAU has undertaken; IAU Collaboration and Networking; Membership News; New Publications; and a global Calendar of Events. Each issue is also devoted to a special 'In Focus' topic of interest and debate for the higher education community worldwide. IAU Horizons is available in English, in paper format and electronically.
IAU LYNX
IAU Lynx, launched in February 2017, provides you with a wide range of information on higher education developments around the world and keeps you updated on the work of the International Association of Universities. It is the new and updated version of our former renowned electronic newsletter, the IAU E-bulletin.
Keep yourself informed, >> SUBSCRIBE HERE
IAU Lynx issues:
NGO in official partnership with UNESCO in associate status
International Association of Universities, UNESCO House, 1 rue Miollis, 75732 Paris cedex 15, France
Contact | Sitemap | Terms of use | Credits