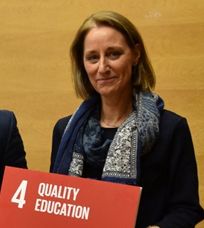 Hilligje van't Land
IAU Secretary General, International Association of Universities
Executive Director, International Universities Bureau
Biography



---
WORD FROM THE SECRETARY GENERAL
---
As is the case everywhere in the world, for IAU the years 2019-20 and 2020-2021 have been unprecedented and challenging ones, characterised by uncertainty, complexity, and disruption, but also by accelerated innovation, and the enormous resilience and humanity we share as a global higher education community. The profound health, economic and social impact of the COVID-19 pandemic provides the opportunity for a critical redefinition of the way in which universities and other higher education institutions, and as well their organisations and associations operate.
IAU was quick to adapt to the new normal and decided to make optimal use of the available resources through several new initiatives. While physical events were no longer conceivable, we pivoted all our activities online. This fundamental transformation to our operation mode has however been consistent with the IAU values and goals.
To enhance cooperation and exchange, we launched the IAU Webinar Series on the Future of Higher Education – short, medium, and long-term perspectives, to bring together different ideas and perspectives from Members of our global community of universities and higher education institutions.
A new set of pages was introduced on the IAU website, bringing together COVID-related news and updates from all over the world. In solidarity with the broader higher education sector, we also allowed free access to the World Higher Education Database as well as our other services and activities for Members as well as non-members. Furthermore, we launched the IAU series of Global Surveys of the Impact of COVID-19 on Higher Education, a second of which was launched in February and open till 1 June 2021 – the Report will be drafted over the summer; a third one will be drafted and launched in late 2022. More detailed information on these initiatives is available on this website.
Even as the full toll of COVID-19 becomes apparent, it is clear that the Higher Education sector, like all others, must be prepared for future events with the potential to severely disrupt 'normal' operations. Understanding change, responding to it, and managing it, requires strong leadership. I believe now is an unprecedented opportunity to drive radical transformation of our education systems and institutions for the benefit of society. As we look to the future, we must set our ambitions even higher — to accelerate societal progress, drive sustainable growth and heighten our global impact. Together, we can achieve what IAU founders envisioned: a more peaceful society, prosperous world, and sustainable future for higher education. The road ahead is however paved with challenges again as we see populism grow, detractors to the value of science and facts become more vocal and higher education's value for society on the one hand cheered and on the other challenged. We need to care for the sector together to ensure it will receive the trust it deserves and the support it needs in order to fully contribute to building a better and more inclusive world post COVID-19.
With the IAU President, the full and deputy Board Members of the Administrative Board and the Members of the IAU Secretariat, I would like to thank all Members and partners for their much valued commitment and support to the work of the Association and your active engagement during this past year. We commit to continue to address the new challenges ahead and to best seize the opportunities and will put all valuable lessons learnt to the benefit of navigating complexity with agility, innovation, entrepreneurship, and responsible leadership to further our mission of building stronger, more accessible, and sustainable higher education systems all over the world.
Hilligje van't Land, PhD