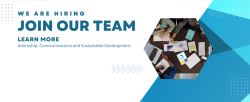 4 August 2023
Job opportunity

Poste d'agent de maîtrise comptabilité et administration à l'Association internationale des Universités (AIU)
Description du poste
Sous la direction de la Secrétaire Générale de l'AIU, l'agent comptable et administration accomplira notamment les tâches suivantes :
I. Comptabilité

Le/la Chargé de l'Administration et des Finances est en charge de la comptabilité générale et analytique. Il/Elle tient les comptes de l'AIU, reçoit entre autres les paiements des adhésions, les frais de participation aux conférences, suit les parties financières liées aux projets de l'AIU ; il/elle administre les paiements des factures et veille à ce que les règles de gestion financière soient respectées par les salariés de l'Association.
Préparation du budget annuel de l'AIU, préparation d'ébauches de budgets et rapports financiers dans le cadre de contrats, subventions et conférences, en relation avec la secrétaire générale et l'expert- comptable, préparation en fin d'année du bilan ; établissement de situations financières périodiques.
Assurer l'archivage des documents comptables selon la règlementation en vigueur en France.
II. Administration du bureau

L'agent de maîtrise comptabilité et administration du bureau prépare les recrutements du personnel et des consultants, en concertation avec la Secrétaire Générale ;
Tenue des dossiers du personnel (incluant la préparation des missions du personnel ; les correspondances diverses (certificats de travail, attestations etc.) ; la gestion et des commandes de fournitures de bureau, matériel informatique et autres ; les contacts, négociations et suivi des dossiers financiers avec les imprimeurs, maquettistes, concernant divers produits de l'AIU (brochures, magazine, etc.) ; l'organisation des réunions mensuelles du personnel).
Lire la description complète du poste

Internship opportunity

Higher Education Communications and Media Internship at the International Association of Universities
Main focus for the internship
IAU works to enhance higher education community's role and actions in advancing societies worldwide. The IAU Secretariat works with four strategic priorities: Globally-engaged and Value-based Leadership; Internationalization for Society and the Global Common Good; Higher Education and Research for Sustainable Development; and Digital Transformation of Higher Education. The Association fulfils its goals through: advocacy, acting as a standard setter, developing a knowledge hub, capacity building, and promoting international collaboration.
In view of this, it is critical for the Association to effectively communication on its actions and values. Currently, the Secretariat is working to revitalize its communications strategies and channels. Reporting directly to the IAU Communications and Media Officer, the successful candidate will be invited to work on a series of projects developed by the IAU to further the voice of the IAU and the global higher education community.
Work assignments will include:


Content creation and technical development of the IAU website,


Development of social media strategies and posts,


Support communication with the IAU Members and partners,


Liaison with higher education institutions from around the world,


Desk-based research and communication related tasks.