5 September 2022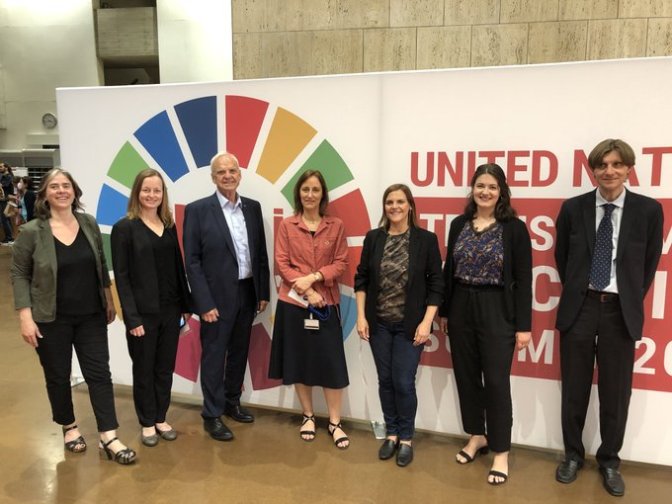 On 28-30 June, IAU attended the UNESCO Transforming Education Pre-Summit to represent the voice of higher education. IAU staff took part in the global dialogue on the actions needed to reinvigorate progress towards SDG4, reinforce lessons learnt during the pandemic, and reimagine education systems in a post-COVID world. Members of the IAU Global Cluster on HESD actively participated in this event.
On 30 June, Trine Jensen, IAU Manager Digital Transformation in and of Higher Education, spoke in the session on Transforming Education for Sustainable Development (ESD) with FAIR OEERs, Digital Innovation, and Diamond Partnerships. The Summit united speakers from the UN, government, academia and the private sector to discuss the importance of Digital Innovation and Diamond Partnerships around FAIR Open Educational Resource Repositories (OERRs). Recommendations will be made on implementing these initiatives as the basis for achieving SDG Target 4.7, creating access to SDG education and training at any stage of life around the world.
Furthermore, the Pre-Summit presented an opportunity to exchange with colleagues from the IAU Global Cluster on HESD, including from the Open University of Catalonia (UOC) and York University, and partnering organizations such as the Association of Commonwealth Universities (ACU).
Photo (left to right): Gemma Xarles, Director of the Globalization and Cooperation, Katrin Kohl, Executive Coordinator, York University, Charles Hopkins, UNESCO Chair, York University, Hilligje van't Land, IAU Secretary General, Pastora Martínez Samper, Vice President for Globalization and Cooperation, UOC, Isabel Toman, IAU Programme Officer, Sustainable Development, Giorgio Marinoni, Manager, HE and Internationalization policy and projects
©IAU 2022