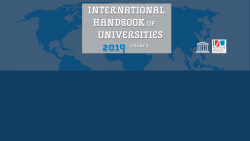 23 January 2020
IAU is pleased to announce the publication of the 29th edition of the International Handbook of Universities (IHU) describing national higher education systems in 196 countries and listing more than 18,400 acccredited higher education institutions (HEIs) that offer at least a 4-year degree or a 4-year professional diploma.
This new edition of the IHU is available in print on demand and, new this year - it is also available in e-format! You can order your copy now on the website of our publishers Palgrave Macmillan.
IAU Members benefit from a preferential rate both on the print and e-book. To get your Member discount code, please contact [email protected].