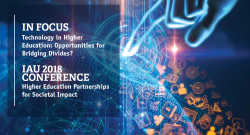 31 May 2018
The first 2018 edition of IAU Horizons (23.1) presents information about the activities of the Association, the upcoming IAU 2018 International Conference in Kuala Lumpur. The In Focus section gathers 11 articles from around the world discussing the important topic: "Technology in Higher Education: Opportunities for Bridging Divides' Click here to read the magazine.
Call for papers for IAU Horizons (23.2): higher education partnerships for societal impact
In preparation of the upcoming conference, the next issue of IAU Horizons, the 'In Focus' will be devoted to the theme of the conference: 'Higher education partnerships for societal impact'
If you are interested in contributing a paper related to this topic, please send a message expressing your interest and explaining briefly how you wish to address this topic in your paper.
Deadline for expressions interest: 30 June 2018
Deadline for submission of paper (max 800 words): 31 July 2018
Contact: Juliette Becker