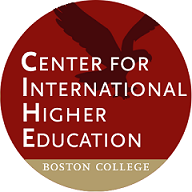 4 November 2022
If you are looking to move into a professional position or into a leadership role, CIHE's academic programs offer high-quality, flexible opportunities to study higher education practice and policy in international perspective.
M.A. IN INTERNATIONAL HIGHER EDUCATION
The M.A. in International Higher Education offers a comparative, global perspective on the fast-growing field of international higher education and centers the importance of a research-informed understanding of the trends that influence global higher education today.
PROGRAM FORMAT: Fully online, in-person, or hybrid
TRACKS
* The Scholar-Practitioner Track prepares you for a career in higher education leadership or policymaking.
* The Research-Intensive Track prepares you for doctoral studies and/or careers with a heavy research focus.
REQUIREMENTS: 10 courses / 30 credits
FUNDING
If you are studying on campus, you can fund your studies and gain professional experience by working as a graduate assistant.
EXECUTIVE ED.D. IN HIGHER EDUCATION
The Executive Ed.D. in Higher Education develops agile college and university leaders through an intensive doctoral program that combines the convenience of online coursework with weeklong summer residencies at Boston College and in Dublin, Ireland. The cohort-based program emphasizes socially just leadership, data-informed innovation, global perspectives, and iterative design thinking.
PROGRAM FORMAT: Online, with three one-week summer residencies
REQUIREMENTS: 14 courses / 48 credits
LENGTH: 3 years
COHORT SIZE: 15 students
OPTIONAL CONCENTRATION
CIHE offers a three-course concentration in Catholic Higher Education, the first of its kind among U.S. graduate programs.
Interested in learning more? Register for an Information Session on Tuesday, November 8 at 12 p.m. ET.
Contact: [email protected] or [email protected]