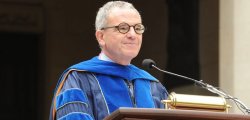 6 July 2018
Dear Members of the IAU Community,
It is with great sadness that IAU announces the sudden passing of Stephen Freedman, Provost of Fordham University, New York, on 2 July 2018.
Stephen, a Member of the IAU Administrative Board since 2008, was a strong supporter of the work of the IAU, sharing the values, the mission and vision upheld by the Association. Stephen was a very dedicated, passionate, open-minded and caring man, who was truly committed to teaching, research and community engagement and to what a global, inclusive and diversity-minded university should stand for.
His absence from the IAU Administrative Board will be greatly felt, and he will be sorely missed, not only by his fellow Board Members but also by the IAU Secretariat, and Members of IAU who had the privilege to have known him and worked with him.
You will find a tribute to Stephen on Fordham University website
IAU would like to express its deepest condolences to his family, friends and colleagues at Fordham University,
Yours sincerely,
Hilligje van't Land, PhD
Secretary General, International Association of Universities (IAU)
Executive Director, International Universities Bureau