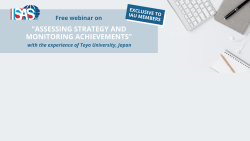 13 January 2020
Discover a unique programme : the IAU Internationalization Strategy Advisory Service (ISAS 2.0), designed to help higher education institutions develop their internationalization policies, strategies and programmes.
IAU invites you to learn more about this advisory service through a free webinar that will present the latest ISAS undertaken at Toyo University, an IAU Member institution in Japan. The speakers will share the internal process that led to a critical self-analysis of the institution's current internationalization activities, as well as the ways in which ISAS 2.0 encouraged progress towards the goals set in Toyo's strategy.

SPEAKERS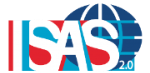 The webinar will include direct testimonials of:


Prof. Betty Leask, ISAS expert panel member and Visiting Professor at the Centre for International Higher Education (CIHE), Boston College, USA


Prof. Shingo Ashizawa, Faculty of Global and Regional Studies, Toyo University, Japan.
DATE
Tuesday 28 January at 18:00 CET (Paris time)
The webinar is open exclusively to IAU Members. It is free of charge, but places are limited.
To join, IAU, click here.
Engage with top experts, who will provide you with tools and insights on how to enhance your internationalization activities!

Registrations are now closed (maximum number of participants reached).