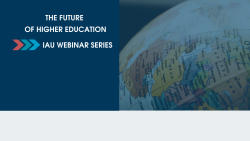 18 June 2020
IAU Webinar on The Future of higher Education: Internationalization strategies post COVID-19
IAU, in collaboration with Boston College International Centre for Higher Education, offers a unique opportunity to attend a webinar with higher education experts from different regions of the world who will discuss the impact of COVID-19 on internationalization and the kind of internationalization strategies that higher education institutions may have to develop in the post COVID-19 era.
Date: Tuesday, 30 June, 2020
Time: 8:00 am ET – 9:30 am ET / 14:00 - 15:30 CEST (Paris time)
The webinar will address questions such as:

• What is the future of internationalization?
• Is the post-COVID-19 world an opportunity to rethink and reorient internationalization?
• Will internationalization become more inclusive?
• Is the post-COVID-19 world an opportunity to foster collaboration rather than competition in research?
>> Speakers:
• Chika Seehole, Pretoria University, South Africa, on perspectives from Africa
• Vidya Yeravdekar, Symbiosis University, India, on perspectives from Asia
• Irina Ferencz, Academic Cooperation Association, on perspectives from Europe
• José Celso Freire Junior, UNESP, Brazil, on perspectives from Latin America
• Robin Helms, American Council on Education, on perspectives from North America
>> Moderators:
• Hilligje van't Land, Secretary General, International Association of Universities
• Hans de Wit, Director, Centre for International Higher Education, Boston College
• Giorgio Marinoni, Manager, HE and Internationalization, International Association of Universities
Recordings and presentations from past webinars are available here.