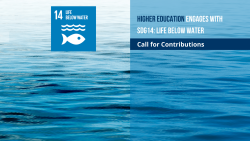 13 October 2020
Share your initiatives on SDG14: Life below water
In the framework of its activities dedicated to Higher Education & Reasearch for Sustainable Development, the IAU has launched, in partnership with members of the IAU Global Cluster on HESD, a series of publications promoting the work undertaken by universities from around the world to achieve the 17 Sustainable Development Goals identified in Agenda 2030 – Transforming our World.

The first publication in the series was dedicated to SDG13: Climate Action. Published in July 2019 "Higher Education and SDG 13 : Climate Action Through University Teaching, Research and Community Engagement " gathered 15 concrete examples of meaningful initiatives towards climate action. A publication on SDG 5 - Gender Equality will also be released soon.

A call for contributions on SDG14 - Life Below Water - Deadline extended!
To coincide with the UN Decade of Ocean Science (2021-2030), the International Association of Universities (IAU) and the University of Bergen (UiB), the university leading the work on SDG 14 in the Global Cluster on HESD, will jointly produce a publication on Sustainable Development Goal (SDG) 14 -Life below Water- to present examples of activities, best practices and to show how universities engage in Science and Higher Education, and build back sustainably after COVID-19.
The publication will avoid the silo thinking prevalent in society and encourage thinking across the SDGs, disciplines, borders and of course, across the Ocean.
The resulting publication will include a wide variety of initiatives representing all world regions and the diversity of higher education institutions.
Together with UiB, IAU invites its Members to submit papers on the topic "Higher Education engages with SDG 14: Life below water".

SUBMISSION INFORMATION
IAU Members can submit their expression of interest/abstract by

Monday, 23 November 2020, midnight CET

.
Abstracts are to reflect the topics specified in the extended call for papers and demonstrate a clear link to the role of Higher Education for SDG 14
All submissions to the publication will undergo review by a team of academics from the University of Bergen and IAU. Final decision on the publication will be taken by the editorial committee.
Authors will be notified by 1 December 2020 if their abstract is accepted.
Full papers are expected by

15 February 2021

.

Read details and submit a proposal