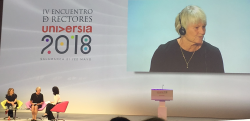 7 June 2018
Pam Fredman, IAU President, represented IAU at the Inaugural Panel of the IV International Rectors' Meeting Universia 2018. The Meeting took place on 21 - 22 May at the University of Salamanca, Spain.
An IAU founding Member since 1950, University of Salamanca celebrates its 8th centenary. Themed 'University, Society, and Future', the Meeting, attended by rectors, deans and academic leaders from over 600 universities in 26 countries, focused on training and learning in the digital world; research at the university; and universities' contribution to social and territorial development.
Prof. Fredman emphasized the importance of academic values and academic competences students acquire during their studies, themes which were brought up by many speakers. The Meeting concluded with the release of the Declaration of Salamanca.
The event has been covered by various newspapers around the world: