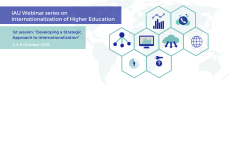 6 September 2018
As part of its offer of services in the field of internationalization of higher education, IAU is developing a series of webinars in English and French, each dedicated to a specific topic of importance in the current global agenda. These webinars will expand the range of learning opportunities available to individuals and higher institutions and draw on the knowledge of internationalization experts from different parts of the world.
The first ever ISAS (2.0) webinar will focus on 'Developing a Strategic Approach to Internationalization'.
Participants will be given access to all materials used during the presentation and the opportunity to ask questions live to the speakers.
The first seminar in English will take place on 4 October at 17:00 CET and be broadcast again on 9 October at 9:00 CET to enable participants from other time zones to take part.
The number of participants is limited, so please choose your preferred date and register as soon as possible at:https://goo.gl/forms/jtN65DqLKc7W2o3D3