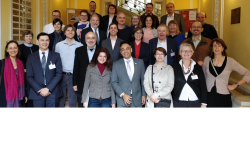 16 April 2019
On 7-10 April, IAU held its first joint Master Class on Internationalziation with UNICA in Dubrovnik, Croatia. We welcomed 35 university leaders from 24 countries at University of Zagreb's Center of Advanced Academic Studies. Beyond the geographic diversity, participants represented a great mixture of positions and professional backgrounds, which allowed for dynamic and nuanced discussions. The goal of the Master Class was to address the needs of today's Vice-Rectors/-Presidents for internationalization, in order to achieve comprehensive and values-based internationalization. It combined plenary and interactive peer-learning sessions on a variety of topics, including strategic planning, global engagement, regional networks and language policy.
"We were pleased to welcome such a diverse group of internationalization leaders. They not only exchanged on specific challenges and opportunities in their local contexts, but also critically discussed the latest trends in internationalization globally, based on the results of the IAU 5th Global Survey. For IAU, the Master Class also provided an opportunity to strengthen our collaboration with UNICA and promote our vision of fair and ethical internationalization," said Giorgio Marinoni, the Manager of Internationalization Policy and Projects at IAU.
Participants were encouraged to shape the agenda of the Master Class and themselves led several sessions presenting the experience of their home institutions. When it came to global trends, Marinoni presented the preliminary results from the IAU 5th Global Survey on Internationalization, which takes place every four years to identify and analyze emerging internationalization trends worldwide. The results—particularly about geographic priorities and perceptions of risks, benefits, drivers and obstacles to internationalization—helped inform the participants' own strategic plans.
"It was a real privilege to participate in the UNICA-IAU Master Class and exchange with decision-makers from universities around the world. I feel inspired and have found a renewed sense of motivation for my own role and daily tasks", said Prof. Gerhard Berchtold, Dean of European Programmes, UCN Universidad Central de Nicaragua.
In their feedback participants indicated that they found the discussions enriching and networking allowed for potential partnerships, which they would like to develop further. IAU and UNICA to build on the positive outcomes of this initiative to strengthen the community spirit and continue promoting values-based internationalization.
IAU will continue to offer Members and beyond opportunities for peer-learning and exchange, as we believe that these are key to making international interactions more equal and respectful of the diverse contents in which higher education institutions operate.
To learn more about IAU's work in internationalization, click here.
Contact: Giorgio Marinoni