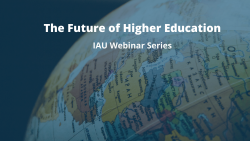 2 June 2020
New webinar on the Future of Higher Education: Sign up now!
The International Association of Universities (IAU) is pleased to continue its series of free webinars on the Future of Higher Education.
Results of the 1st IAU Global Survey on the impact of COVID-19 on Higher Education will be presented by Giorgio Marinoni, IAU Manager, HE and Internationalization.

When? Tuesday 9 June 2020 - 15:30 - 17:00 CEST (Paris time).
A panel of HE experts will comment on the results of the IAU Global Survey. The panel members are:


Hans de Wit, Director, Center for International Higher Education, Boston College


Michael Gaebel, Higher Education Policy Director, European University Association


Marta Losada, Dean of Science, New York University Abu Dhabi
Attendees will have the opportunity to exchange in real time during the webinar!
---
Recordings and presentations from previous webinar sessions are available here.