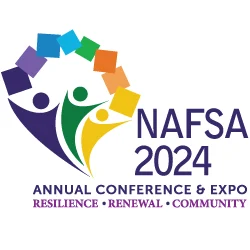 25 July 2023
NAFSA encourages global and diverse voices at the 2024 NAFSA conference that will be held May 28–May 31, 2024, in New Orleans, Louisiana. The theme is "Resilience. Renewal. Community."
Several opportunities:
1/ Proposal reviewers: Sign up to serve as a proposal reviewer. The deadline to sign up is July 31.
2/ Session, workshop and poster proposals: The NAFSA Annual Conference Committee welcomes proposals on:


resilience and wellness for international educators, students, and scholars


environmental sustainability in international education


global and multigenerational voices, particularly perspectives from the Global South


diversity, equity, inclusion, and access


world events and geopolitical factors that affect international education


artificial intelligence and other new, emerging technology


skills and competencies for professional growth and leadership


best practices from NAFSA's Knowledge Communities
Session and workshop proposals are due by August 30 at 5:00 p.m. (EDT). Poster proposals are due by December 6.
Visit NAFSA's website to learn more.