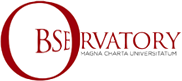 18 April 2023
Students Leading University Community Engagement: what more can be done and how should it be recognised?
You are invited to participate in a Magna Charta Observatory (MCO) Webinar on 4 May at 1500 CEST. At the event an essay competition will be launched with prizes that include travel to a potentially career enhancing influential international conference in the autumn of 2023.
The Magna Charta Universitatum 2020 speaks about the responsibility of universities to engage with their communities and recognises the role of students as key stakeholders in universities.
To help to give more substance to this in practice the MCO is working with the Global Student Forum (GSF) and the European Students' Union (ESU) to deliver a webinar and organise an essay competition to identify ways in which students might play a greater part in enabling their universities to fulfil their responsibilities to society. A key question is how might students' role in this be recognised in a way that adds value to their university experience and communicates their achievements.
The webinar will include student and university perspectives and examples of successful practice from around the globe.
The essay competition will be global. It is designed to enable successful practice to be showcased and the winners to join an international conference in October 2023 where they will present their essays in the presence of university leaders from around the globe and receive awards.
The webinar will be moderated by Martina Darmanin, member of the MCO's Governing Council and former president of ESU.
To register please go to https://www.eventbrite.it/e/students-leading-university-social-responsibility-tickets-609263572747