About the Executive Leadership Program (ELP)
The IAU Executive Leadership Programme (ELP) is unique. It is radically global in its ambition to support university leaders across all higher education systems and types focusing on common issues and challenges. It covers central aspects of higher education management for a sustainable running of the institution, and it empowers university leaders to navigate the contextual and political dimensions of university leadership. In short, the ELP provides a framework with which to confront the big managerial, ethical, economic and societal questions universities are facing or will face.
Want to learn more or share this opportunity with others? Access the full programme brochure here.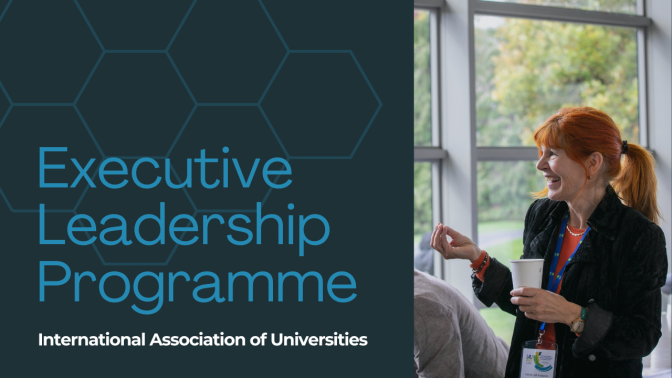 Modular Topics:
Transformative Leadership
1. The Changing Mission of Universities
2. Building Partnerships Across the Global Higher Education Landscape
3. Navigating the Strategic Planning Process
Higher Education Management
4. Effective Governance, Risk Management, and Oversight
5. Budgeting, Financial Strategy, and Administration
6. Diversifying Income Streams and Fundraising Strategies in Higher Education
7. Creating and Managing Effective Teams
Values Based Leadership
8. Leadership in the Transformation of Higher Education
9. Charting a Sustainable Future for Higher Education
10. Defining and Communicating the Role of Higher Education in Society
Learning Outcomes:


Enhanced Strategic Thinking and Planning: Gain a new perspective on different aspects of global higher education to improve scenario thinking for the implications for your current strategy and future plans.


Understand Your Leadership Capabilities: Gain better knowledge of the different dimensions of strategic leadership to become a globally engaged leader of change.


Develop Effective Teams: Explore leadership expectations and improve interpersonal management skills to unlock the full potential of diverse high-performing teams.


Build a Global Network of Peers: Create long-term partnerships, connect with colleagues from all over the world, and share experiences to learn from each other.
Program Details:
Dates: 25 November 2023 - Autumn 2024. The first session will be held at the IAU 2023 International Conference at Qatar University in Doha.
Format: The ELP will meet in person and online over the course of one year. Each module is complimented by two Action Leadership Groups, separated into current and emerging leaders for true peer-to-peer exchange.
Coordinator: Dr. Andreas Corcoran, IAU Deputy Secretary General
Language of Instruction: English
Tuition Fees:


IAU Members: €1500


Non Members: €2250


LDC Rate*: €1000
* Click here to see which countries are categorized as LDCs.
Registration: Please register via the following form:

Register Here

Meet the program facilitators:


Teri Balser, Immediate past Provost and Vice President,
University of Calgary, Canada


Chris Brink, Former Vice Chancellor, Newcastle University, UK


Andreas Corcoran, IAU Deputy Secretary General


Patrick Deane, Principal and Vice Chancellor, Queen's University, Canada


Andrew Deeks, President of Murdoch University, Australia and IAU President


Pam Fredman, Former Rector Gothenburg University and IAU immediate past President


Tawana Kupe, Former Vice Chancellor, University of Pretoria, South Africa