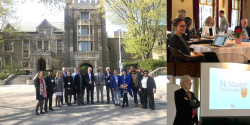 30 May 2018
The 5th session of Leading Globally Engaged Universities (LGEU), the IAU unique leadership training programme, was hosted for the first time ever in North America, by McMaster University in Canada, from 13 to 18 May 2018.
The week-long event gathered representatives from Canada, Colombia, Haiti, Ghana, Romania, South Africa, the United Kingdom, the United States and Thailand. Participants particularly enjoyed the excellent hosting of the event and the unique opportunity provided to connect and learn to trust each other on sensitive issues relating to leadership in very different contexts yet presenting similarities conducive to unique exchanges.
Mark your calendars to attend the next session, learn more about the kind of leader you are and how best to engage globally!
LGEU-6 will be hosted by the prestigious National University of Political Studies and Public Administration, in Bucharest, Romania on 14-19 October 2018.