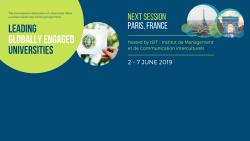 7 November 2018
Applications have just opened for the 7th session of Leading Globally Engaged Universities, IAU's unique professional development programme for socially engaged university leaders!
This five-day seminar provides an excellent opportunity to learn more about the theory and innovative practices of institutional leadership and management. Participants will engage in peer-to-peer learning, build new partnerships and gain insights about challenges and opportunities for higher education leaders worldwide.

>> MORE INFORMATION HERE

>> READ THE BROCHURE

DATES
2 - 7 JUNE 2019
LOCATION
PARIS, FRANCE
Hosted by Institut de Management et de Communication interculturels
ONLINE APPLICATION
The deadline for applications is 5 May 2019. The programme is limited to 20 persons. Apply now!