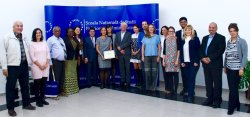 18 October 2018
This week the 6th session of IAU's leadership development programme, Leading Globally Engaged Universities (LGEU), opened in Bucharest, Romania. Led by Dr Tom Kennie, leadership expert in HE, and the IAU Secretary General Dr Hilligje van't Land, the programme addresses the challenges of leading a university in today's world—integrating at once local and global perspectives.
The National University of Political Studies and Public Administration (SNSPA), an IAU Member, is hosting the five-day seminar for socially engaged university leaders. On this occasion, the university Senate rewarded IAU with the anniversary gold medal 'SNSPA 25 plus 1', for its contribution to the modernisation of international higher education.
LGEU participants come from all around the world and include Heads of Institutions, Vice-Presidents, Deans as well as Academic Department Heads, Registrars and senior professional service leaders. The current LGEU session brings together participants from Afghanistan, Egypt, France, Ghana, Moldova, Pakistan, Palestine and Romania. Throughout the week, attendees participate in leadership development exercises, sharing their own insights and institutional approaches to global engagement.
Mark your calendars for the LGEU#7 – Paris, France!
IAU is pleased to announce that on 2-7 June 2019 Institut de Management et de Communication interculturels (ISIT) will host LGEU-7.