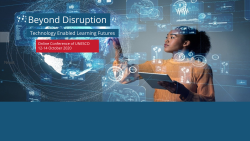 12 October 2020
Join IAU at the 2020 UNESCO Mobile Learning Week!
Mobile Learning Week (MLW) is the United Nations' flagship event on Information and Communication Technology (ICT) in education, and has been organized by UNESCO and its partners for eight years consecutively. This year the event is held online from 12 - 14 October 2020 and is dedicated to the theme "Beyond Disruption - Technology Enabled Learning Futures". IAU Manager, HE & Technology, Trine Jensen, is chairing the session on Resources for Distance Learning in Higher Education.
Conference Agenda:
Day 1: Effective Policies – Sharing policies and evaluating effectiveness
Day 2: Innovative Solutions – Showcasing innovative distance learning solutions
Day 3: The Future – Setting out policy and research agendas to build back better
The event is free and open to all!