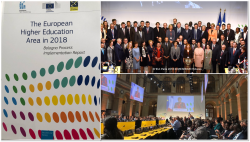 31 May 2018
IAU took part in the Ministerial Conference celebrating the 20th anniversary of the Bologna Process. It was held in Paris, on May 24-25, 2018. Opened to European Higher Education Area (EHEA) delegations, it included a Bologna Policy Forum that provided an opportunity to pursue a dialogue between EHEA and non-EHEA countries. The Paris Conference thus offered an opportunity to reinforce international cooperation for a better future of higher education.
The Ministerial Communiqué stresses the need to improve the implementation of fundamental values, especially democracy, since the standards of higher education convey notions of peace and freedom.
IAU Vice President Remus Pricopie, Rector SNSPA, and Hilligje van't Land, IAU Secretary General represented the IAU during these events. The SG chaired the round table on Higher Education social responsibility: the civic role of higher education institutions.
Declaration Ministerial Conference