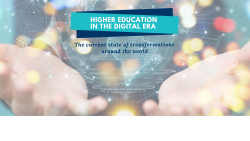 29 November 2019
In collaboration with an Expert Advisory Committee composed of Board members and experts from around the world, IAU undertook from November 2018 to April 2019 a large consultation process in order to collect global views on the current state of play of the digital transformation of higher education. The results of this survey are presented in a report:

Higher Education in the Digital Era: The Current State of Transformation Around the World

.
The report brings together views and experiences from different parts of the world, highlighting that there is no 'one size that fits all' to digital transformation in higher education and society. " It is essential to build bridges and create mutual understanding of local as well as global challenges to determine the key principles that are pivotal to shape a meaningful, human-centred digital future, regardless of where in the world we are physically based. " says Trine Jensen, IAU Manager for Technology in Higher education and author of the report.
This is precisely the aim of this first stock-taking exercise for IAU in the field: to discuss the current landscape, risk of inequalities, ethical implications and ways to jointly leverage the potential of technological developments for a sustainable future. The outcomes of this report will inform a new Policy Statement that IAU is currently developing on the values that must accompany the digital transformation so that it contributes to the global common good.

DISCOVER THE REPORT!

>> Interested in receiving tailored updates and initiatives on Technology and Higher Education? Subscribe to IAU's dedicated list