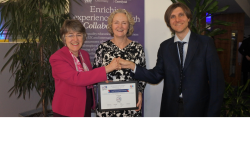 25 March 2019
IAU awarded Cardiff Metropolitan University with the IAU Comprehensive Internationalization Learning Badge in recognition of successfully embedding internationalization in all its institutional strategies and activities. Giorgio Marinoni, IAU's Manager of Higher Education and Internationalization policy and projects, visited Cardiff Metropolitan University on 7 March to award the institution with the Learning Badge. It was received by Professor Leigh Robinson, Pro-Vice Chancellor (Cyncoed Campus) and the Dean of the School of Sport and Health Sciences. Cardiff Metropolitan University expressed its gratitude through the words of Baroness Finlay of Llandaff, chair of the Board of Governors: "We are absolutely delighted with this award. It recognises our deep commitment to internationalisation and diversity across all activities of this University. We value our close links and shared values with our international partners".
In 2017, Cardiff Metropolitan University undertook an "ISAS (2.0)- Achieving Comprehensive Internationalization" service in order to assess the progress of the university in implementing a holistic approach to internationalization. The IAU Expert Panel visited Cardiff Metropolitan University on 9-11 October 2017. The members of the IAU Expert Panel were Madeleine Green, Senior Fellow, International Association of Universities (chair), Eva Egron-Polak, Senior Fellow and former Secretary-General and Executive Director, International Association of Universities, Tim Gore, Chief Executive Officer, University of London Institute in Paris and Giorgio Marinoni, Manager, Higher Education and Internationalization Policy and Projects, International Association of Universities. Cardiff Metropolitan University met all criteria to be awarded the Learning Badge. IAU also provided the university with relevant recommendations to enhance their internationalization process. The Learning Badge is valid for five years (2017 - 2021).
IAU's approach to internationalization of higher education focuses on the equitable and collaborative nature of the process, and recognises that international interactions take place in highly unequal and diverse contexts among Higher Education Institutions (HEIs) with different, resources, needs and interests. IAU thus promotes values-based internationalization by offering ISAS (2.0) tailor-made advisory services to HEIs, relevant individuals at HEIs, national governments and organizations. In particular, ISAS (2.0) consists of three services:
• Advancing strategic internationalization at HEIs (for HEIs)
• Facilitating individual learning for internationalization for HEIs and individuals working at HEIs. (for HEIs and individuals at HEIs)
• National advisory service for strategy or policy development for HE internationalization (for national governments, agencies and organizations)
Since the launch of ISAS (2.0) in 2016, four universities from four different countries have benefited from ISAS (2.0) services and three more institutions are in the process of undertaking them.
If you are interested in benefiting from IAU's tailor-made advisory service in the field of internationalization, please do not hesitate to contact Giorgio Marinoni ([email protected])