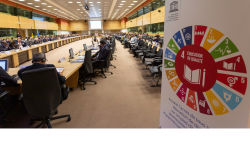 21 December 2018
On 3-5 December 2018, IAU attended the UNESCO Global Education Meeting (GEM 2018), in Brussels, Belgium. The IAU Secretary General Dr Hilligje van't Land contributed to two important debates on higher education and pedagogical training.
UNESCO, as the lead agency and coordinator of the Global Education 2030 Agenda, convened the GEM 2018 and the Government of Belgium hosted it. The Meeting brought together stakeholders from the global education community to take stock of progress and identify strategic priority areas requiring political guidance and intervention to achieve the Global Education 2030 Agenda.
IAU Secretary General, Dr Hilligje van 't Land, spoke at the workshop on Higher Education, Lifelong Learning and the World of Work, organized by the World Bank and UNESCO, and a panel on Teachers and Educators in a Changing Landscape. The former highlighted the ways in which higher education can respond to the rapidly changing world of work, while the latter discussed emerging challenges for future teachers and educators to effectively address societal needs.
"Teachers and professors are constantly challenged by the changing classroom setting and the technological transformations, which impact both teaching and learning mechanisms. In addition, they are expected to be at the forefront of what the world of work requires in terms of skills and competences. On the one hand, this generates uncertainty, but it could also create opportunities for change and innovation in teacher training," said Dr van't Land. In both sessions, she urged for the recognition of the key roles that higher education plays in developing all levels of education that correspond to today's challenges and securing a better future for all.
The GEM 2018 resulted in the drafting and adoption of the Brussels Declaration, which sets the course for education for the next four years through eight priority areas:
1. Making education and training systems more equitable and inclusive "leaving no one behind"
2. Eradicating illiteracy
3. Including migrants, displaced persons and refugees in our education and training systems
4. Providing quality gender-responsive education and training
5. Strengthening education for global citizenship and for sustainable development
6. Providing open, flexible and responsive education and training systems to meet new skill needs
7. Improving teachers, educators, trainers and school leaders
8. Increasing investment in education
For GEM 2018 Programme and Meeting Documents, click here.
IAU supports and informs Agenda 2030 through research and advocacy, building synergies among universities and other stakeholders, promoting peer learning and exchange.
On 24 October 2018, IAU took part in the Europe and North America 2030 Education Consultation jointly convened by UNESCO in close cooperation with the Council of Europe (CoE) and the European Commission, at the CoE, in Strasbourg, France. In July 2019, IAU will participate in the UN High Level Political Forum in New York, where it will facilitate a workshop on the role of higher education and research in achieving Agenda 2030.