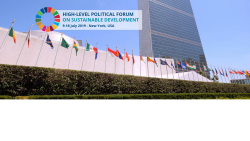 2 July 2019
The High-Level Political Forum (HLPF) is the yearly conference of the United Nations where governments, UN Agencies and civil society come together to discuss the achievements that have been made towards Agenda 2030. This year, the HLPF 2019 will be dedicated to " Empowering people and ensuring inclusiveness and equality ".
As the most global university association contributing to Sustainable Development and having the Consultative Status with the Economic and Social Council, IAU will take an active part in the debates and will organize a series of side events, together with 8 IAU Member Universities.
Follow the discussions and learn more about IAU's contribution to the HLPF!