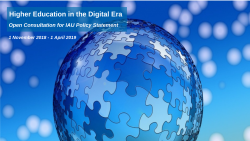 7 November 2018
In light of rapid technological changes, IAU is developing a new policy statement outlining the key principles and values that must underpin this transformation. IAU is committed to making the process inclusive and ensuring that the voices of its Members and the wider higher education community are heard.
This is why we have launched an open consultation on the topic, allowing both university leaders and relevant staff to share information about how they experience the digital transformation of higher education. The consultation takes place in the form of a survey and is open until 1 April 2019.
IAU encourages all Members and beyond to contribute to shaping the policy statement and thereby learning more about tech-related initiatives and trends in higher education around the world.