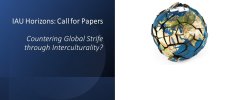 26 June 2023
Call for papers: Countering Global Strife through interculturality?
In his keynote address at the IAU International Conference in 1990, the UNESCO Director-General Federico Mayor Zaragoza, declared that "universality and diversity are not to be construed as opposition, but rather a dialectic, which has as its synthesis interdependence". More than 30 years later, this message is more important than ever. We have therefore decided to dedicate the IAU 2023 International Conference to: Higher Education with Impact: The Importance of Intercultural Teaching and Dialogue.
In connection with the conference, the IAU is pleased to announce that the 'In Focus' section of the next issue of IAU Horizons will be devoted to the theme: Countering Global Strife through interculturality?
Universities have a key role to play in building intercultural competencies, nurturing intercultural understanding, and establishing a sense of interconnectedness in a world that seems increasingly polarised and divided, marked by the erosion of social coherence and human freedoms. How does academic responsibility figure in this context of rising geopolitical tensions and national protectionism? How do we facilitate international collaboration and foster a culture of peace? How can universities leverage their influence and stem breakdowns in civic discourse? And how does this converge with the growing demand on universities to actively engage in knowledge diplomacy? In brief, how can universities sustain and build intercultural ties and empower global citizenship and social responsibility?
To discuss these important questions, the IAU is pleased to open a call for papers in terms of a thought piece of maximum 800 words.
As usual, the IAU retains editorial oversight.
This call is exclusively open to leaders (Presidents, Vice-chancellors and Rectors) of higher education institutions. However, we are open to proposals that are co-authored with a colleague.
Deadline for submission of abstracts: 9 July
Deadline for submission of papers: 1 August
Please submit the abstract here.
For more information or questions, please contact: Trine Jensen