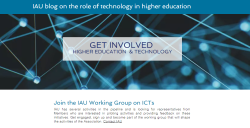 6 June 2018
IAU is pleased to launch a blog dedicated to the role of technology in higher education and to the transformation of higher education in the digital era. The aim of this blog is to share experiences and information about the digital transformation in higher education with perspectives from all regions of the world. IAU Members and beyond can share innovative initiatives and best practices or voice concern about developments in this field. IAU believes that through exchange and cooperation, we can contribute to shaping the digital transformation in higher education.
Click here to discover the blog
The IAU Horizons magazine (23.1) dedicated the 'In Focus' section to the topic "Technology and higher education: opportunities for bridging divides?" The authors of the 11 articles coming from around the world also agreed to share their thinking and articles on the blog in order to kick-start the discussion.
IAU invites its Members to consider contributing and submitting a contribution to IAU (max 800 words).
Please contact Trine Jensen for expressions of interest.