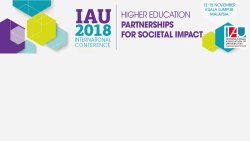 16 February 2018
IAU 2018 International Conference, co-organized with the University of Malaya, will take place from 13-15 November 2018 in Kuala Lumpur, Malaysia. It will be dedicated to the theme Higher education partnership for societal impact.
IAU believes that higher education institutions (HEIs) play an important role in the development of societies. HEIs engage with society in a variety of ways. Partnerships with civil society, the private sector, local authorities and decision-makers or between HEIs take on numerous forms and shapes. Therefore, the conference will discuss and showcase how universities contribute to societal development around the world.
IAU is launching a call for case studies to collect innovative partnerships for societal impact pursued by universities and other higher education institutions. Universities, which initiatives will be selected, will be invited to present their work at the conference.

>> Call for case studies

Mark your calendar, conference registrations will open on 3 April 2018!