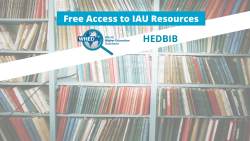 26 May 2020
In these times of global health crisis due to COVID-19, IAU wishes to show its solidarity and support to the higher education community by offering free access to the advanced search function of the World Higher Education Database [1] and the International Bibliographic Database on Higher Education [2] which are normally reserved to IAU Members only, until the end of August 2020.
Use the credentials below and explore all assets of the WHED and HEDBIB!
Login: FreeAccess
Password: IAU2020
A short survey is also available here to help improve the WHED. Your opinion matters, please share it with IAU!
---
[1] The IAU World Higher Education Database (WHED) is a unique online reference portal that provides authoritative information on some 19,400 accredited higher education institutions and on higher education systems and degrees in 196 countries and territories. The WHED has been developed and maintained in collaboration with UNESCO. It is also an important tool for the implementation of the UNESCO Global Convention on the Recognition of Higher Education Qualifications.
[2] The International Bibliographic Database on Higher Education (HEDBIB) is a unique resource of references and publications on higher education systems, administration, planning, policy and evaluation from around the world.