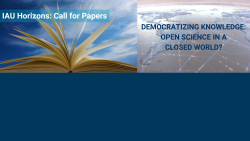 26 January 2021
Contribute to the Next Edition of IAU Horizons
The In Focus section of the next issue of IAU Horizons will be dedicated to the topic Democratizing Knowledge: Open Science in a Closed World?
In these unprecedented times, the use of digital technologies in higher education has increased massively. The question then arises whether the process of discovery and development of solutions around the world could be accelerated if scientific results and data were shared more openly. Has the current context accelerated progress towards more Open Science initiatives? What opportunities and challenges can one expect moving forward? Who are or should be the key actors of transformation in the field and what levels of action or systemic changes are required if Open Science is to move from ideal to action within universities?
We invite Higher Education leaders to share your thoughts and opinions on the subject by submitting a paper, which will be featured in the magazine. Please send your expression of interest in submitting a paper to Trine Jensen by Friday, 19 February. This should include a brief abstract outlining the scope and angle of the proposed article. Authors retained for publication will be informed by Wednesday, 24 February.
The articles are short opinion pieces of maximum 800 words. Deadline for submission of contributions is Monday, 15 March. More information available here.