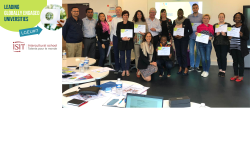 10 June 2019
Last week, the 7th session of IAU's leadership development programme, Leading Globally Engaged Universities (LGEU), took place in Paris, France. Led by Dr. Tom Kennie, leadership expert in HE, and the IAU Secretary General Dr. Hilligje van't Land, the programme addresses the challenges of leading a university in today's world—integrating at once local and global perspectives.
ISIT - Institut de Management et de Communication Interculturels, an IAU Member, hosted the five-day seminar for socially engaged university leaders from all over the world: Bangladesh, Botswana, France, Hong Kong, Ireland, Kenya, Romania, Turkey and the United Kingdom. LGEU participants included Heads of Institutions, Vice-Presidents, Deans as well as Academic Department Heads and senior professional service leaders.
Throughout the week, attendees participated in leadership development exercises, sharing their own insights and institutional approaches to global engagement. They also had the opportunity to learn about the French higher education system, through meetings with Campus France, Conference des Grandes Ecoles and the Association of Francophone Universities, as well as through a visit to the renowned Ecole Normale Supérieure.
Look out for the LGEU#8 in Hong Kong !
More information and dates will be communicated soon.