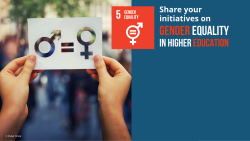 27 September 2019
Share your initiatives on gender equality in higher education !
In the framework of the IAU Global Cluster on HESD, IAU has launched a series of publications promoting the work undertaken by universities from around the world to achieve the 17 Sustainable Development Goals identified in Agenda 2030 – Transforming our World.
The first publication in the series was dedicated to SDG13: Climate Action. Published in July, "Higher Education and SDG 13 : Climate Action Through University Teaching, Research and Community Engagement " gathered 15 concrete examples of meaningful initatives towards climate action.

A call is now open for contributions on SDG5 - Achieve Gender Equality and Empower All Women and Girls!
Together with the University of Bologna, the institution leading the work on SDG5 in the Global Cluster on HESD, IAU invites Members to submit a paper or a case study that showcases what their institution is doing to promote gender equality.
The resulting publication will include a wide variety of initiatives to represent all world regions and the diversity of higher education institutions.

SUBMISSION INFORMATION
IAU Members should make their submissions (in English or French) using the dedicated application form and send it to Amanda Sudic
Submissions should present a research topic, a student initiative, a programme, a MOOC, a community initiative, or any other action specifically targeting SDG-5
Each member can submit a maximum of 2 initiatives
The University of Bologna and IAU will make a selection among the submissions received for the publication. However, all initiatives will also be published online on the IAU HESD Global Portal.

Deadline for submissions : 15 November 2019

Submit a case study!