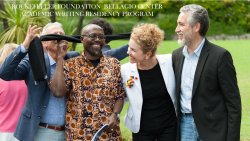 9 November 2017

IAU is pleased to offer its members a unique opportunity to expand their work and put forward the value of academics' contributions to the development of society.
IAU supports the Rockefeller Foundation Bellagio Center Academic Writing Residency Programme which welcomes scholars, researchers, professors, and scientists from a wide array of backgrounds, disciplines and geographies, during a month in a serene and stimulating environment, combining uninterrupted individual day-time and evenings spent with innovative practitioners, writers and artists.
The call for application is now open until 1 December 2017 for residencies in 2018 and early 2019.