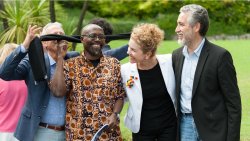 6 March 2018
You are an academic willing to share your commitment to the development of society ? Seize this unique opportunity to carry out your project and make connections!
The call for applications to the Academic Writing Residency Programme in Bellagio Center is open. By assisting the Rockefeller Foundation with the global outreach development of this beautiful programme, IAU is proud to encourage to apply individuals who shape thinking and catalyze action around projects that align with the Foundation's mission of promoting the well-being of humanity, particularly through issues that have direct impact on the lives of poor and vulnerable populations. These issues include but are not limited to health, economic opportunity, urban resilience, as well as food and agriculture.
This Residency Programme welcomes university and think tank-based academics, researchers, professors, and scientists from a wide array of backgrounds, disciplines and geographies, during a month in a serene but stimulating environment, combining uninterrupted individual day-time and evenings spent with innovative practitioners, writers and artists.

The Call for application is now open until May 1, 2018 for residencies in 2019.