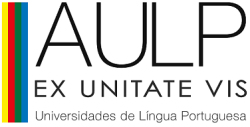 3 August 2022
The Association of Portuguese Language Universities (AULP) will edit the International Journal of Portuguese Language (RILP) IV series Nº 43, where research, scientific and cultural works on Communication and Politics will be published.
The articles presented in the Journal are authored by professors and researchers from higher education institutions in Portuguese-speaking countries.
AULP invites educational institution and scientific community to participate in this call for open papers until September 30, 2022.
RILP is indexed / listed in the Latindex Catalog – International Information System for Scientific Journals, Qualis (B5) – CAPES journal classification system, of the Ministry of Education of Brazil, ERIH PLUS – European Reference Index for the Humanities of European Science Foundation (ESF), Google Scholar, Publons and OJS /PKP. A decision from the SciELO Portugal catalog is still awaiting.
RILP is a printed magazine distributed by all higher education institutions that are members of the AULP, and is also available in an electronic format with free access (open access) on the page www.rilp-aulp.org
You can consult the rules for submission and publication of articles here: https://www.rilp-aulp.org/index.php/rilp/about/submissions (In Portuguese)