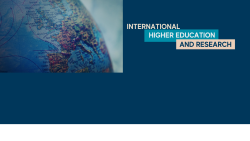 24 July 2020
The International Association of Universities contributes to the publication of a new Statement on the importance of international higher education and research
In the context of the COVID-19 pandemic, the Network of International Education Associations (NIEA) whose IAU is the coordinator, publishes a statement reaffirming the importance of international higher education and research, calling for governments and higher education institutions around the world to support international collaboration as an essential means to finding solutions to global issues, which manifest differently in various local contexts.
The statement calls for:


National governments to:
Ensure higher education entities are considered key stakeholders in achieving sustainable development;
Support international higher education and research;
Increase access to international higher education opportunities globally;
Ensure equality;
Increase openness to and promote innovation in cooperation in research and internationalization of higher education

Higher Education Institutions to:
Promote and participate in cross-sectoral collaboration;
Improve knowledge development and dissemination;
Increase diversity and eliminate discrimination;
Develop co-curricular programmes and implement Internationalization at Home;
Make an Institutional commitment to society.
The International Association of Universities (IAU):


Fully supports the NIEA call towards national governments around the world;

Invites its members to implement the NIEA actions called for, to foster the advancement of international higher education and research.
>> Not a Member of IAU yet?