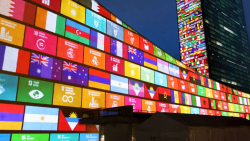 27 May 2019
As Sustainable Development Goals (SDG) are at the core of discussions about how universities can shape future societies, the International Association of Universities (IAU) has developed the 2nd Global Survey on Higher Education and Research for Sustainable Development (HESD).
The main goal of the survey is to demonstrate the contribution of higher education to Agenda 2030 and to wider societal transformation. We aim to identify the ways in which universities incorporate sustainable development into teaching, learning and research, as well as into their day-to-day running, in order to provide a comparative analysis of HESD trends around the world, highlighting the diversity in the approaches to sustainable development.
IAU will present the initial findings at the United Nations High-Level Political Forum in New York, USA, to highlight the key role that higher education is playing in achieving the SDGs. It will next be presented at the IAU 2019 Conference in Puebla.
Participants will also be able to use the results to inform their own decision-making, and benchmark their own institutions against others, in order to develop new and innovative strategies. The survey report will be published by the end of this year.
The survey will only take 15-20 minutes to complete and is available in English ; French ; Portuguese and Spanish
To ensure that we collect as many diverse perspectives as possible, we have designed the survey in such a way that anyone within an institution can contribute.
Deadline : 1 July 2019.
For more information, contact Isabel Toman.