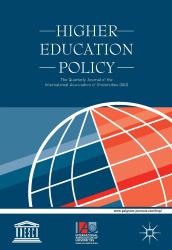 HEP 31/2 – June 2018
The latest edition of Higher Education Policy (HEP), IAU's quarterly peer-reviewed journal has just been released. It brings together seven papers looking at different themes, including staffing at UK universities, high school rankings in university admissions in Chile, European standards and guidelines for QA in Portugal and the Czech Republic, and transnational teaching in China, to cite but a few. You can see the full content of the latest edition on the link below.
If you are interested in submitting a paper to HEP, you should use the online submisstion system. Please visit the journal's home page here.