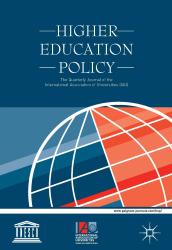 HEP 34/4 – December 2021
December's issue of Higher Education Policy (HEP) brings together fifteen articles looking at diverse topics including academics' perceptions of their autonomy, over-expansion of higher education and the possible effects of a drop in birth rates, the legislative framework of the Ethiopian higher education sector, and disparities in quotas across provinces in China.
IAU Members have access to the entire archive of HEP, including those published online, via the HEDBIB database.
>> To see the full content list and to read Abstracts
If you are interested in submitting a paper to HEP, you should use the online submisstion system. Please visit the journal's home page here.