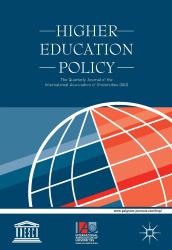 HEP 31/4 – December 2018
The latest edition of Higher Education Policy (HEP), IAU's quarterly peer-reviewed journal has just been released. This issue sees the publication of three papers submitted to the last prize essay competition on Higher Education and Research for Sustainable Development: A New Academic Discipline?, and which look at Sustainability Governance at Universities, Towards a Definition of Environmental Sustainability Evaluation in Higher Education, and Mainstreaming Education for Sustainable Development at a Swiss University. Other papers look at social engagement in Latin-American universities, hiring education agents for international student recruitment, intra-institutional collaboration within a US doctoral/research university, and a survey amongst faculty members in China on how the world-class university project affects scientific productivity.
IAU Members have access to the entire archive of HEP, including those published online, via the HEDBIB database.
If you are interested in submitting a paper to HEP, you should use the online submisstion system. Please visit the journal's home page here.