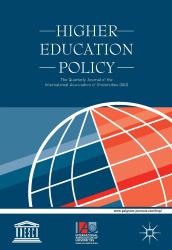 HEP 32/2 – June 2019
The latest edition of Higher Education Policy (HEP), IAU's quarterly peer-reviewed journal has just been released, and presents papers looking at migrant faculty in Singapore, international scholarship programmes and the sustainable development agenda, mergers in Europe, and the well-being of early-career researchers in Sweden. The full list of contents can be viewed online on the link below.
IAU Members have access to the entire archive of HEP, including those published online, via the HEDBIB database.
If you are interested in submitting a paper to HEP, you should use the online submisstion system. Please visit the journal's home page here.