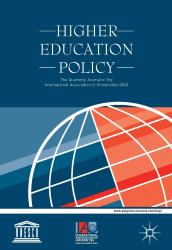 HEP 36/1 – March 2023
The first issue in 2023 of Higher Education Policy was released in March. Papers look at anti-bullying policies at Australian universities, social inclusion of refugees in higher education in Norway, implementation of Chinese policy on private universities, the effect of social background on choice of field of study in Israeli higher education, revenue diversification in Malaysian public universities, and how toxic behaviors of leaders could cause harm for women and universities in South Africa.
IAU Members have access to the entire archive of HEP, including those published online, via the HEDBIB database.
>> To see the full content list and to read Abstracts
If you are interested in submitting a paper to HEP, you should use the online submisstion system. Please visit the journal's home page here.