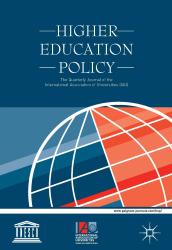 HEP 35/2 – June 2022
The latest issue of Higher Education Policy (HEP) in 2022 brings together twelve papers looking at a range of subjects including job satisfaction among Italian PhD holders, conflict of interest in university accreditation in Chile, perceptions and experiences of female academics with diversity policies in Belgium, institutional autonomy and capacity of higher education governance in South Asia, and how academics feel about and respond to reforms in Cyprus.
IAU Members have access to the entire archive of HEP, including those published online, via the HEDBIB database.
>> To see the full content list and to read Abstracts
If you are interested in submitting a paper to HEP, you should use the online submisstion system. Please visit the journal's home page here.