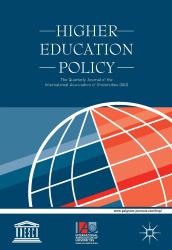 HEP 32/4 – December 2019
The latest edition of Higher Education Policy (HEP), is out now and is a special issue entitled The Governance, Policy and Strategy of Learning Outcomes Assessment in Higher Education. Papers look at issues arising in K-12 assessment that could have implications for postsecondary testing, ethics and fairness in assessment, evaluation mechanisms being developed in China, initiatives to improve learning quality via assessment in the US, measuring teacher competence, and learning outcomes as a policy instrument. The full list of contents can be viewed online on the link below.
IAU Members have access to the entire archive of HEP, including those published online, via the HEDBIB database.
If you are interested in submitting a paper to HEP, you should use the online submisstion system. Please visit the journal's home page here.