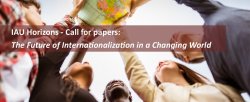 13 December 2022
The world we are living in has changed significantly over the past few years. Transformations are due to multiple factors, including the COVID-19 pandemic, geopolitical changes, social movements demanding more equitable living conditions and rights, fast technological developments impacting society and a renewed sense of urgency in the quest for sustainable development. The new reality has had an important impact on internationalization of higher education which continues to transform.
Against this backdrop, the In Focus section of the next edition of IAU Horizons is devoted to the theme: The Future of Internationalization in a Changing World.
IAU invites leaders of higher education and experts in internationalization from all regions of the world to contribute to this debate about the future of internationalization and to present their views on how internationalization is transforming and the consequences for the future of higher education.
Please submit your abstract (max 150 words) by 15 January 2023. Click here to submit your abstract.
The articles are short opinion pieces of a maximum of 800 words. The retained authors will be notified by 20 January and the deadline for the submission of the article is 20 February 2023.
Contact: Trine Jensen orGiorgio Marinoni